Information Portal
Here you will find solutions, ideas and useful information. We've tried to be as thorough as possible – so you might have to scroll carefully to find the solutions that are relevant to your needs. If you find anything confusing, or missing, please do let us know via the form below so we can have it adjusted.
If you have a more serious problem and don't fancy browsing for the solution, you can click here to go directly to the interactive troubleshooter below.
---
Useful if you're going abroad, or want to adjust for daylight savings time. This adjusts the time relative to GMT that you see in the text messages, for locations etc.
Text TZ+01 to push the time zone forward by one hour, TZ-01 to go back an hour, TZ+05 to go forward 5 hours – you get the idea.
If you have friends or family who you want to email a copy of the manual to, you can download an easy-to-print version by clicking here. Or right click on the link and select "save target as" – then choose a place to save it.
The only difference between the e-manual over the print one is that the "Name your GPS Tracker for reply texts" and "Change the Time Zone" functions (see below) are also included in the e-manual.
These instructions are for GiffGaff users only.
Its unlikely that your GPS Tracker will get a call or text from an unwanted premium number (scams etc). However, it's not impossible - some automated scammers will text or call random numbers. If your device receives a strange text, it might automatically reply back with "Format Error!" as it doesn't recognise the command - which could end up being charged as a premium rate text from your account.
It's very unlikely, but it's better to take the precaution of preventing this.
Step one: Click here and log in if need be.
Step two: You'll see the option of "Incoming premium calls and texts". If this has a green "Allowed" box, then click on it to block them instead.
That's it!
GiffGaff sometimes change their pages and page link structure - if anything changes that would be useful for us to update, please do let us know.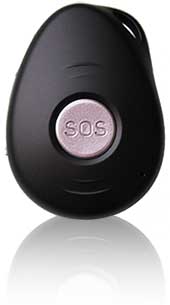 Problem Solving
Geo-Fencing
SIM Card Issues
Battery Usage & Charging
More Useful Functions
Extra Tips
Here's an example of what you might receive in response to status, with what the figures mean. In the example, the functions are all on, if you see a 0 after the label then it means the function is switched off.
A The alerts & SOS number set via A1
B The alerts & SOS number set via B1
C The call-out number set via C1
D The only-alerts number set via D1
E The only-SOS number set via E1
Speed:0,100km/h A speed limit alert, set via speed1,100(km/h)
GEO:1,0,0 Which of the three geofences aere active (in example, G1 fence is active, G2 and G3 are not). The radius of any of the three possible fences, or whether the fences are "in" or "out" zones are not shown in the Status response. Set G1 fence via G1,1,0,100M
VB:0,2H Vibration alert set via V1,02H (check every two hours for motion)
MV:M,100 Movement alert set via M1,100M (alert if move >100M)
LBS:0 Locate via cell tower set via CL1
LED:0 Switch off LEDs set via LED1
TZ:1.0 Time zone adjustment set via TZ+01 (forward an hour)
LI:0 Listen-in mode set via L1
PS:1 Power-saving (eco) mode set via PS1
DS:0,1H Deep sleep mode set via DS1,01H (alert for 1 hour if motion)
FL:0 Fall detection via FL1
Bat:78% Battery level (approx)
SMS:1 Irrelevant
Lock:0 Irrelevant
Call:0 Whether Fall-Alert calls out via Call1
RT:0 Whether audible RingTone when called via Ring1

The location
Text LOC for a location. If you don't get a location because of lack of GPS signal, you can text CL1 before texting LOC again – this will then give you a location based on the GSM (mobile network) base station. Cancel again with CL0.
That the wearer is wearing the tracker
Text V1,01M would check for motion every minute – and send an alert text to the numbers set in A1, B1 and D1. So when you get the alert text, you know that the Tracker is moving (i.e. being carried), and can cancel the function again with V0.
The sounds going on around the wearer
Text L1 to set the Tracker to answer automatically, discretely, and without the speaker enabled. You will then be able to listen to the surroundings. This might be useful if you want to check on the wearers location. Cancel with L0.
That the wearer is ok
You can call the Tracker directly to have a two-way conversation. It will sound a calling jingle (so the wearer will know) before answering automatically. The wearer can hang up the call by pressing the SOS button, or the caller can hang up on their own phone.
If you're tracking someone with dementia, they may have a particular spot they wander too which is unsafe. If you know they're there – then you can use the Geo-fencing command to set an alert for if the person returns to that area. Remember that the geo-fence command operates based on where the Tracker is when you set it. So if you send G1,1,1,100M, it will notify you if they return to within 100m of where they currently are. This is because the third '1' is a one (meaning 'to go into the geo-fence') rather than a zero (meaning 'to go out of the geo-fence').
---
Still Stuck?
Explain your question or problem using the form below, and we'll be in touch as soon as possible to help out. This form will let us know what your problem is as well as the necessary related information.
If any links are broken or outdated, or you find something that you think would be useful to be addressed on this page for other customers, then please let us know so we can add it.
What does your issue relate to?
Click in the box to start.