A Mobile Phone GPS Tracker
- The Two-Way Calling Feature
Our GPS Dementia Tracker also functions like a small mobile phone.
It has a small speaker and microphone, enabling two-way calling. You can call the GPS tracker, and the person carrying it can also call you.
This can be hugely useful in offering reassurance, finding the GPS Tracker if it gets lost in a house, or offering another method of sussing out where the person is. 
Here's how it works:
Calling Out From the GPS Tracker:
A single phone number can be assigned, via a text message, to the call button on the side of the tracker
When the button is pressed, a call is then made to the assigned phone number (which can be a landline or mobile phone)
Outgoing calls cost 25p on Pay As You Go credit with the pre-installed SIM card, or included as part of unlimited calls and texts with the £6pm Goodybag deal
The buttons can also be disabled if the person might be prone to fidgeting or confusion
Calling In to the GPS Tracker:
If you call the GPS Tracker's mobile phone number (it has a small SIM card inside, like a mini-mobile phone) it will buzz before automatically answering
You can set it so that only authorised numbers are allowed to call in
Calling the GPS Tracker doesn't cost anything from its SIM credit, just like calling a friend's mobile
---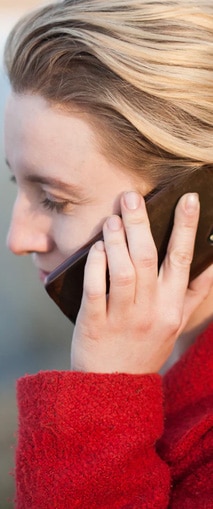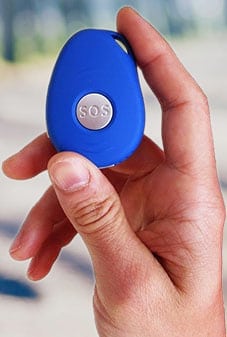 ---
SOS Button also Calls Out
Aside from the two-way calling feature, remember that the GPS Dementia Tracker also has an SOS / Panic button.
When pressed, this will text up to three different phone numbers (assigned via a text message), and then call them in turn until someone answers. This will then connect the wearer of the GPS Tracker to a carer (whoever you assign the number to) who can offer reassurance.
"The tracker worked perfectly ~ this will now give me an enormous peace of mind when he goes out walking (daily). I cannot thank you enough for your service which was more than excellent!"Sue, August 2020
Remote Listening
Another really useful mobile phone feature of the GPS Tracker is remote listening.
Via a text message, you can set the device to activate or disable the onboard speaker.
With just the microphone enabled, you can call it for one-way listening instead.
This can be really useful if you want to discretely check on a loved-one's surroundings without confusing them - for example to check whether they are at home, or perhaps in a park, pub or busy area.
If you weren't able to get a GPS signal because they were inside a large shopping mall for example, this would offer a secondary way of checking their surroundings.

No hidden fees, subscriptions or costs – buy today, receive as early as tomorrow
More Details about our UK GPS Tracker
Read more about our Stray Star dementia tracker with a list of unique features. Discrete, waterproof, tamperproof, free online tracking, no subscriptions - its the perfect device for a range of situations.
---