---
---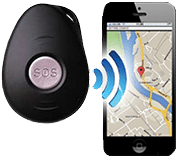 "The tracker came almost instantly, the instruction booklet gave full and straightforward details and the tracker has proved its worth from day one. It's just as it says- you really are there to help! Full marks all round! Thank you!"Barbara, Shrewsbury UK
---

As you're using a mobile phone - you might like to know that you can order, activate your SIM, set up your GPS Tracker and request map texts all on your phone.
Here's an example of a text link that you'd receive from the GPS Tracker - you can click on it to see exactly how the map location would look on your phone: maps.google.com/maps?q=50.852072,-3.388508
Your Google Maps app should also have options for Satellite view. 
Our GPS Tracker Offer
---
WELCOME! We provide user-friendly personal GPS Trackers for dementia, Alzheimer's and elderly wanderers - but the uses are plentiful. Our waterproof and tamperproof Stray Star GPS Tracker is packed with features, offering unique flexibility for notifying multiple carers. They're extremely cheap to run (typically just £1-3 per month for location text messages at 5p each - and no more hidden costs or monthly fees whatsoever!) We offer plenty of help and information, which you can see for yourself...
A Flexible Tracker

Our Stray Star GPS Tracker is terrific, giving instant map links by text.
Easy to Set Up
Our step-by-step welcome sheet will walk you through everything you need to know to get tracking – in minutes.
Help & Support
An extensive online portal of extra detail, tips, help, advice and remote firmware updates – make the most of your device.
Great Aftercare
Our small dedicated expert team are available to help with any issues or questions – no anonymous call centers.
"We purchased a Stray tracker for our Dad who has dementia, in early November. We have been really pleased with the reassurance it gives us as he still lives at home independently but visits my mum daily in the local care home she is a resident in so we are able to check he has arrived safely and has been dropped home at night by his taxi."Noreen, 2018
"The tracker makes me feel that mum has a little friend in her pocket who is keeping an eye on her for me! Thank you so much."Linda, Manchester UK
Buy a GPS Tracker Today
"What a fantastic product. I would recommend this to anyone needing to track someone. Many thanks and again thanks for your superb service."Peter, 2017
SSL Secure Payments

via Card, Paypal or BACS

Fast Delivery From UK

Choose from 1-5 days, signed for

Free Pre-Installed SIM

Easy to activate, cheap to use

Plenty of Help

Great manuals, help & aftercare
"The tracker is amazing we can have peace of mind knowing where he is at any given time, what a difference it has made, it's amazing."Jean, 2015
"We have a family member with early Alzheimer's and he tends to go off on wanders… It is a fantastic bit of kit and we are so pleased"Janine, Merseyside
"I bought a Stray Star GPS Tracker a few weeks ago for my father who has dementia – I think it is a great product and it has been working very well"Liz, 2016
"It has been excellent, as my dad has dementia and it gives my mum peace of mind."Lorraine