GPS Tracker Safety Alerts
You can set up your Stray Star GPS Dementia Tracker to send automatic text alerts when certain things happen - allowing you to respond asap. You can also set it so that one carer receives SOS alerts, while another receives non-SOS alerts.
Alerts can be enabled or disabled via a simple text message.
Wandering Too Far
One of the key benefits of GPS Trackers for dementia and Alzheimer's is knowing when the person wanders. Also called geofencing, you can set a radius (upwards of 50 meters) from where the tracker is - if the person then wanders beyond this distance, you (and two other carers if necessary) can receive a text alert. 
You can create up to three different zones (of varying sizes and places) that send an alert if the person walks out of them (e.g. away from home), or into them (e.g. a particular destination, or to know that they're home again). 
If you set up online tracking, you can have a ping on your phone's app instead when the tracker enters or leaves a zone, and can create multiple circular or square zones anywhere on the map.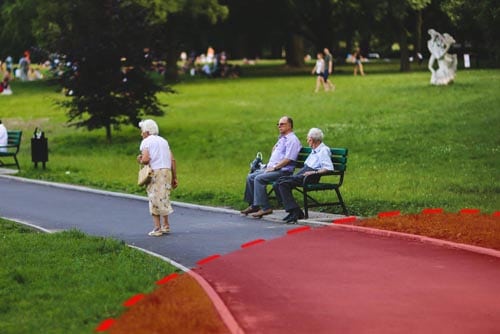 If the person with dementia wanders outside of a set radius, receive an automatic text (with a location of where they are)
Fall Alerts
Our Stray Star GPS Dementia Tracker also works as a fall detector. It has a built-in motion sensor - if the wearer (who may be a vulnerable adult or with risk of stroke) should fall, the device will sense an impact and trigger a Fall Alert. To prevent false alarms, it will beep ten times first, during which time the wearer can cancel the alert by pressing the main button on the front.
As well as a text alert to up to three people, it can also call each person in turn until someone answers, to allow a two-way conversation. This allows a carer to offer some reassurance that someone is on their way.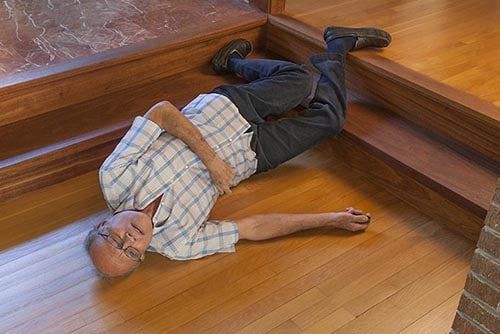 The risk of falls increases with age - an automatic text alert is one more safety measure that could save a life
SOS or Panic
The SOS button on the front can be assigned to up to three relatives/carers numbers. When pressed for any reason (being lost, confused, in need of help) the device will send a text alert saying "HELP ME!" with the the location link.
It will then also call the numbers in turn until someone answers, so a reassuring two-way conversation can take place.
If the wearer is unlikely to remember to use the buttons (e.g. a dementia patient), the buttons can be disabled while still allowing you as a carer to receive other alerts (e.g. wandering, falls or a low battery).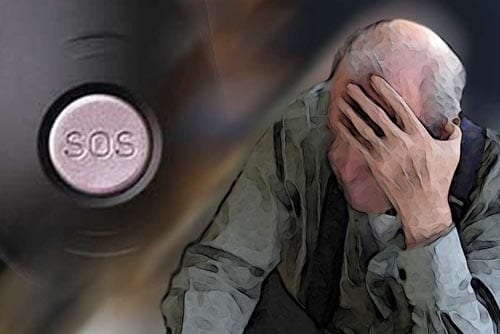 If a loved one becomes lost, confused, anxious or is in any danger - they can notify you immediately with the push of the SOS button
"Hi, we purchased a Stray tracker for our Dad who has dementia, in early November. We have been really pleased with the reassurance it gives us as he still lives at home independently but visits my mum daily in the local care home she is a resident in so we are able to check he has arrived safely and has been dropped home at night by his taxi."Noreen, 2018
More Help & Information
If you want to delve into any further detail about a particular aspect about GPS Trackers, please select a page below: