GPS Trackers: Everything you Need to Know
Buying a GPS Tracker might seem daunting if you're new to the idea - you're investing in safety, so will want to feel reassured. Here we outline the basics of what's involved, and don't worry - it's simpler than it first looks. If you need to go into any further detail about a particular aspect, you can click on the relevant links or see a selection at the bottom of the page.
GPS Trackers use the mobile network to transmit their location information, so have SIM cards inside. They can be thought of as mini mobile phones, with the key difference being that they perform lots of automatic functions (e.g. detecting locations, wandering, falls) and don't require the wearer to do anything (except carry it).
One-off or regular locations
If someone with dementia is at risk of going missing, you'll want to know when they wander and where they are. Our Stray Star GPS Tracker will give a location by automatic reply-text whenever you need one, with a Google Map link of the current location (read more). You can also receive a text alert if they wander a set distance from home (read more). With optional online tracking, you can see them moving on a live map, as well as review the walking routes they've taken on a recent day (read more).
Two-way calling and listening-in
Our GPS Tracker also has a small speaker and microphone onboard, while still being completely waterproof. It can automatically answer an incoming call from you, the carer, enabling you to speak to the person with dementia. You can also disable the speaker if you wish, to listen in to check on the surroundings if it helps in a missing person situation (read more). The device can also call out to designated numbers if the SOS or side button is pressed - but these buttons can also be disabled if they're not necessary.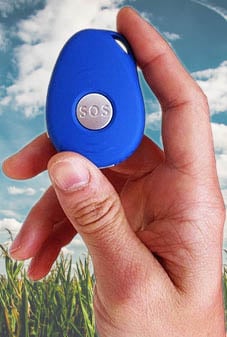 "It is going to be a real help as we have a family member with early Alzheimer's and he tends to go off on wanders and although currently finds his way home, he doesn't know in advance where he is going as he just waits for a train and gets on it, so he could be anywhere from chester to Southport or Preston! It is a fantastic bit of kit and we are so pleased."Janine, UK
Receive Life-Saving Safety Alerts
Our GPS Tracker offers a range of intelligent safety features to automatically text you, the carer if the person with dementia needs help.
Know When They Wander
A radius of anywhere between 100m to 3 kilometers can be set on the GPS Tracker. If the wearer than wanders beyond that point - it will send an automatic text alert to you and up to two other carers, letting you know the current location.
This is excellent if you're worried a loved one might wander out, or away from a care home. This function is called geo-fencing, and up to three different areas can be set to alert if the GPS Tracker goes in, or out of the zones.
SOS Alerts
If the button on the front of the GPS Tracker is pressed, it will send text alerts, and an outgoing phone call.
Fall Detection
There is also a built-in motion sensor which can detect a fall - and again send a text alert and phone call (false alarms can quickly be cancelled). You can read more about GPS Trackers as fall detectors here.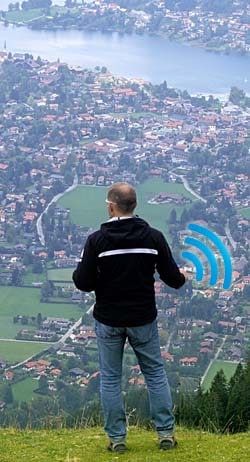 The GPS Tracker will let you know when a person with dementia has wandered too far, and where they are
How Much do GPS Trackers Cost to Use?
An Initial One-Off Cost
GPS Trackers themselves vary a lot in price, but there are often lots of hidden variables - other hidden fees, expensive SIM usage costs, or monthly subscription charges.
Our Stray Star dementia tracker is a one-off payment of £159.99 and that's it - no more costs from us whatsoever, but plenty of help, detailed online information portals and great customer service! You will only need to pay for your SIM usage from the GiffGaff network, which is very cheap (details below).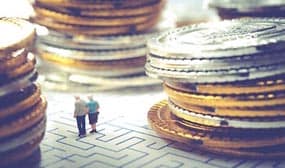 Don't get lost with hidden fees and subscriptions - we keep it simple (and cheap!)
Very Low Running Costs (just SIM usage)
When you activate the free pre-installed GPS Tracker SIM with £10 of pay-as-you-go credit, you will receive an extra £5 for free. This is with GiffGaff, who use the O2 network (but you can use another network if you wish - you're in control).
Whenever GPS Trackers text a location, it only costs 10p from the pay-as-you-go credit. For most customers, this only costs about £2-3 a month. 
If though you think you might be using it more often, GiffGaff also have a £6 per month deal which includes unlimited texts and call-time (for outgoing calls or SOS calls from the GPS Tracker) and more than enough data for online tracking - so you needn't pay more than this. You can switch back and forth from PAYG to the inclusive package whenever you need to - again you're in control.
Data usage is also very cheap - if you choose to use optional online GPS tracking (where it regularly uploads and updates the location on the map), then it only costs about 30p per month for data (the actual GPS Tracking account is free to set up and use, which other companies often charge for).
What Else is Worth Knowing About GPS Trackers?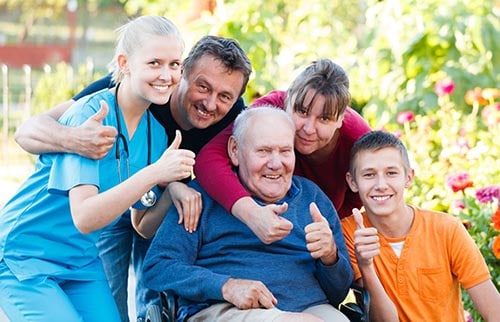 Easily share access with other carers, friends and family who might also want to receive alerts or locations
Sharing With Family & Carers
If using GPS Trackers for dementia, you may want other family members or carers to have access. Our unique firmware allows for different people to request a location from the device. You can set up to five different people to receive various alerts or outgoing calls (read more).
Discrete and Fiddle-proof for Users with Dementia
Our versatile dementia tracker is small, discrete, waterproof and tamper-proof - so can't be easily turned off by fiddling hands (which can be an issue with dementia and other GPS Trackers!) You can also disable the call-out and SOS buttons if they're likely be repeatedly pressed by accident.
Limitations of GPS Trackers
It's important to remember that GPS Trackers rely on both GPS availability and phone network signals. If they're deep inside a building (e.g. care home, shopping mall, hospital) then GPS signals won't be available and so locations won't be given. Phone networks can vary in strength across UK, particularly in more rural areas. Any phone network can be liable to mast-tower issues too - which means that signal can drop for hours on end on rare occasions.
For these reasons, you should never rely entirely on GPS Trackers for someone's safety - they are an assistant aid only, and shouldn't encourage a situation where a person would be in danger without it.  
Why Buy a GPS Tracker From Us?
With over ten years of experience specialising in supplying GPS Trackers for dementia patients, we pride ourselves on offering clear and useful information with a great product.
When you purchase our Stray Star GPS Tracker, you'll get clear and concise information on activating your SIM, using the device, and access to a large online help portal with extra details and tips on various functions - all to help you make the most of your GPS Tracker.
You'll also benefit from great customer service if ever you get stuck or have a question - just get in touch and we'll quickly help out.
More Help & Information
If you want to delve into any further detail about a particular aspect about GPS Trackers, please select a page below: