Ensuring GPS Trackers are used properly with Dementia Patients
This page goes into further detail about using GPS Trackers with dementia patients. For a broader outline about dementia tracking, please see our main page about gps trackers for dementia. For a basic outline about how our Stray Star GPS Tracker works, please see our guide GPS Trackers: Everything You Need to Know.
In an ideal world, someone with dementia would carry their GPS tracking device at all times. Of course in the real world, this is more challenging, for a number of reasons. Each situation is different, but you might find some information helpful if you come across some common barriers.
Even in 2022, Coronavirus is still bringing a huge additional challenge and threat to caring for people with dementia.  It is imperative to prevent wandering as much as possible, and to be extra prepared in the event that someone does wander. This is covered in more detail below.
"Hi, we purchased a Stray dementia tracker for our Dad in early November. We have been really pleased with the reassurance it gives us as he still lives at home independently but visits my mum daily in the local care home she is a resident in so we are able to check he has arrived safely and has been dropped home at night by his taxi."Noreen, 2018
Working with care-homes to ensure the GPS Tracker is charged & carried
If a loved one with dementia is in a care home, they may still have opportunity to wander. You'll want to ensure the employees are on-board with using the GPS Tracker, and know what to do.
We've had some great feedback from care staff who use our Stray Star GPS Dementia Tracker on behalf of their service users. It's a huge benefit to care workers to be able to locate their elderly dementia patients if they go wandering or become lost - they also don't want to have to call you and explain that your loved one has wandered from the home and can't be found! So remember to explain things from their point of view, "selling the benefits" if you need to so that you get them on board and motivated to use it. But you really shouldn't have a problem – we've had some fantastic care-home support workers call in who have been extremely enthusiastic about using the GPS Dementia Tracker.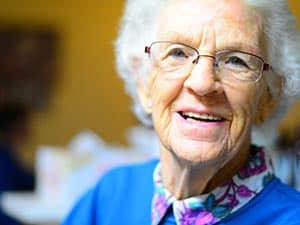 Get support workers on-board to ensure the GPS Tracker is charged and used properly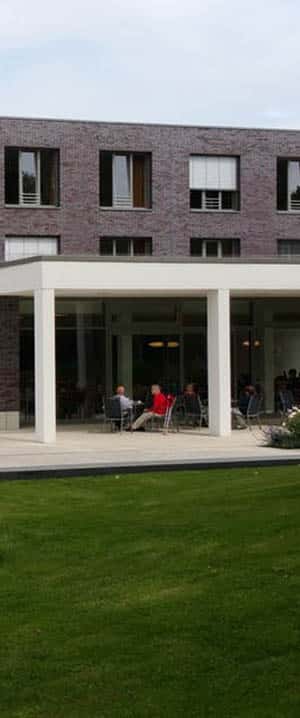 Care home workers have shown enthusiasm with GPS trackers
Care and support workers can be incredibly busy though, with many other things to remember as part of their routine. Before giving the GPS Dementia Tracker to an Alzheimer's or dementia patient, it helps to set up as much as possible beforehand:
Activate the dementia tracker SIM card
The friendly welcome sheet included with the dementia tracker contains a step-by-step guide to activating the SIM - then you'll have the associated phone number. You'll need this for getting text locations (we've included a reminder space in the manual to write it down).
Then you can hand the Dementia Tracker over to a care support worker and explain the simple text message they need to send if the person becomes lost.
Add the dementia care home number to the dementia tracker to receive alerts
This then enables them to receive low battery alerts, be called if the SOS button is pressed on the dementia tracker, or receive wandering or fall alerts if these functions are set. You can also set these numbers up remotely (via text) and can add more than one carer's number (including your own).
Ask them to charge the Dementia Tracker at set times 
The Stray Star Dementia Tracker for dementia can be left on the charging cradle when not in use – so this is fairly simple. They don't even need to fiddle about with leads (or forcing the wrong one in or upside down - which can and does happen when the cradles aren't used!)
"Bought the GPS pendant for my father who is in residential care with dementia and prone to "escaping" This device is an excellent product to secret in his shirt pocket. The customer service and aftercare with this company is excellent. I have had a couple of queries & their on line service response is quick and extremely helpful. Many thanks would highly recommend"Susan
Working with the dementia patient to ensure the GPS tracker is taken out
GPS dementia trackers can sometimes offer a challenge in ensuring the person wears or carries it - they will be vulnerable to forgetting, or perhaps just not wanting to. Your situation will be completely unique - but it may be useful to think about ways to ensure the device is used properly.
Remembering to carry it
Routine is a hugely important part of enabling someone with dementia to have structure - it offers reassurance and some stability. It helps to allow new behaviours or devices to form part of a routine. There are a variety of ways that our Stray Star GPS Dementia Tracker can be implemented into existing habits. It comes with a lanyard cable for wearing as a pendant, but can also be used as a key-fob, or carried in the optional carry-pouch on a belt or ankle. It's also been known for customers to sew the device into the lining of jackets or handbags - which are usually routinely taken on walks. You might need to get creative in ensuring that the device is somehow carried as part of a routine.
Denial, defensiveness or refusal to wear a tracking device
This is a more difficult challenge to face, and may need a little discretion, persuasion or even deception to ensure assistance in locating should they become lost when wandering. The dementia patient may be unaware that they have become lost in the past, or even deny the possibility of becoming lost.
Our Stray Star GPS Tracker has many other functions, which could be used to explain its use to the person with dementia. For example:
as

 

a simple mobile phone, where they only need to press a button to call you, or accept a call from you.
as an

 

SOS "Panic" Button

 

should they need to alert someone quickly.
as a

 

fall detector, just in case they happen to take a tumble.
as a

 

key protector– it could be explained as a locator to help find the keys if they go missing - rather than the person.
There are so many uses that the GPS trackers dementia functionality needn't even be mentioned. They don't necessarily need to know that it can be instantly located at any time – because it works discretely. Fortunately, they are also tamper-proof and waterproof.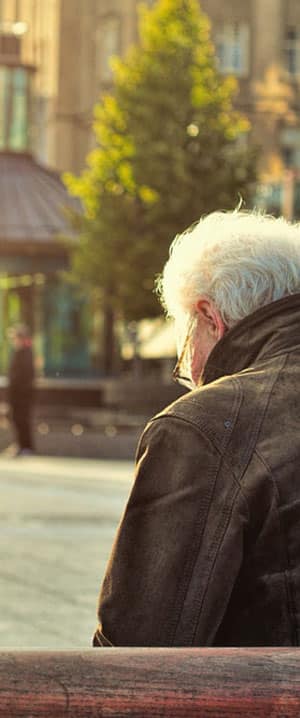 Making the tracking device part of a routine can be important
"Thank you, the Dementia Tracker arrived and it's great. My Dad has Alzheimer's and goes out every day on the bus. The tracker is amazing we can have peace if mind knowing where he is at any given time, what a difference it has made, it's amazing."Jean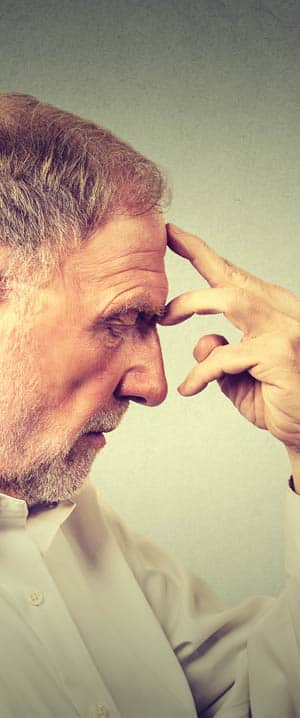 Helping to bring someone who is lost back to safety could save their life
GPS Trackers for dementia patients - ethical considerations
There is an argument that if a GPS tracker can't be fully consented to by the dementia patient (who doesn't fully understand the usage or need) then there's an issue of personal freedom and privacy.
But what's the alternative? If a person with dementia or Alzheimer's becomes lost for hours in the cold without a location device, then personal freedom could ultimately be far more hampered by suffering a serious injury or death.
The reality of caring for someone with dementia makes it clear - simply having the option to locate them is a huge relief. The debate is often muddied by the use of tracking employees or suspicious partners – but these contexts for tracking are completely different. GPS Trackers are a life-saving solution to a very real and dangerous problem.
With regards to bending the truth – you'll find that this is commonplace in care-home when it comes to managing patients with dementia. Whilst that doesn't automatically make it ok, it IS just a part of the practical day-to-day care. For example, in one care home, we knew of a patient with dementia who believed they were at "work". Would it be appropriate for the care staff to continually confuse and alarm the patient by saying "no, this is not your workplace, this is a care home and you live here permanently!" every day? The staff would continually humor the patient by going along with the scenario, asking the patient if he's having a good day at work, and answering the many work-related questions he might have about when the next meeting was. In our opinion this isn't unethical or deceptive - it's a necessary part of the care and management of a person's mental well-being whose reality has become unfortunately detached.
At the end of the day, this is all about protecting a person from real-world consequences of the unfortunate degenerative effects of dementia. As mentioned, it's better to see them located swiftly with a GPS Tracker when necessary, rather than not.
"Bought the GPS pendant for my father who is in residential care with dementia and prone to "escaping" This device is an excellent product to secret in his shirt pocket. The customer service and aftercare with this company is excellent. I have had a couple of queries & their on line service response is quick and extremely helpful. Many thanks would highly recommend"Susan, 2016
Preparation and Prevention
If Someone Has Recently Started Wandering, Don't Just Rely on Dementia Trackers, Plan Your Response Ahead of Time
You should always have a firm idea of what to do if your friend or relative with dementia wanders.  GPS Dementia Trackers don't guarantee safety, and there is always a risk of GPS interference or temporary mobile network mast tower faults as with any mobile device.
Begin search-and-rescue efforts immediately. The vast majority of wanderers are found within 1.5 miles of where they disappeared.
Explain the situation to any nearby neighbours, as well as local friends and family the person with dementia could visit, to call you if they see the person alone.

Keep a good recent photo and updated medical information in case the police are needed to help in the search.

Be aware of a two-mile radius of where the person lives, to pinpoint dangerous areas such as water, dense forestry, tunnels, or roads with heavy traffic. 

Keep a list of likely places where the person may wander - any nearby

 past jobs, former homes, places of worship, pubs, cafes or restaurants.

Provide the person with a form of ID that could be easily found. 

If the person with dementia does wander, search the immediate area for no more than 15 minutes.

 

If for any reason you aren't able to locate (e.g. with a Dementia Tracker) and safely retrieve the person, call 999 and report to the police that a person with dementia is missing. They can then help in the search or collection.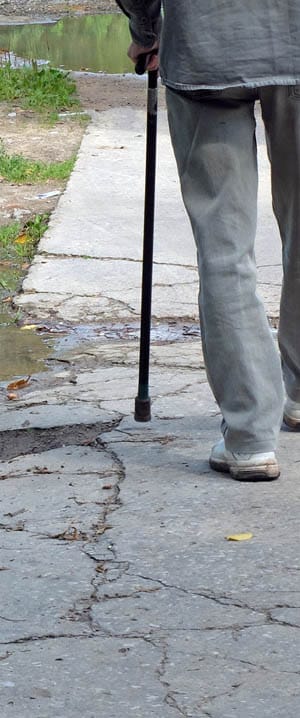 Plan your response before a person with dementia wanders
"A great bit of kit for my peace of mind as much as Mum's safety. I'm not using all the other functions but might do so in the future – I was very impressed by how much is possible and how customisable it is for different needs."Karen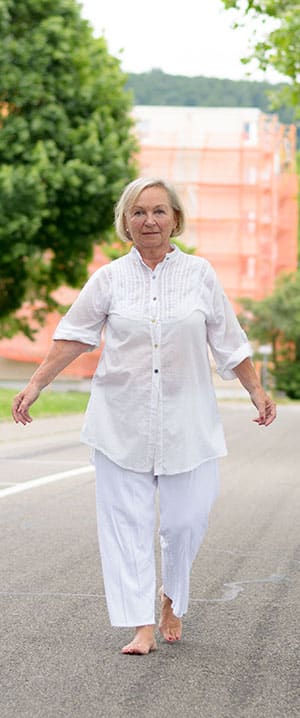 Reducing the risk of wandering might also help become aware of the reasons behind the behaviour
Reducing the Risk of Wandering Before Dementia Trackers are Necessary
As helpful as Dementia Trackers may be, of course its far safer to reduce the chances of wandering in the first place. These ideas can help:
It helps to help create a sense of routine, such as carrying out daily activities. 
Try to plan activities for times when wandering is more likely. They can help reduce anxiety and restlessness. 
If the person with dementia wants to 'go to work' or 'home', validate them without correcting them, e.g. "let's stay here today, we'll be safe and can think about that tomorrow instead".
Remember to ensure that basic needs are met - a person with dementia may not always communicate when they're thirsty, hungry or need the bathroom, and such needs can trigger wandering. 
Never lock a person with dementia in at home or leave him or her in a car alone.
Try to avoid taking them to busy places that are confusing and can cause disorientation (e.g. shopping malls, grocery stores)
Don't leave someone with dementia on their own in new or changed surroundings.

Use devices to know when a door or window is opened - which can be as simple as a bell above a door, or a home alarm.

Keep car keys out of sight. 

If the person with dementia is no longer driving, they could easily forget. If you think driving might be a risk, also consider our GPS Dementia Trackers for Cars.
"I recently bought a tracker for my mother with dementia, it's a great piece of kit and am delighted with it."M Hancock
More Help & Information
If you want to delve into any further detail about a particular aspect about GPS Trackers for dementia/Alzheimer's patients and care homes, please select a page below:
"Hi, The Personal dementia tracker is still doing a great job, we are able to locate the Dad when he wanders due to his dementia which has helped us so much and ensured his safety."Brian, Kent
"Brilliant! Thanks very much. We're currently away with our Dad staying in a hotel and its worked and helped us twice already. Its an absolute relief and piece of mind having the tracker"Gary
"We have received the dementia tracker and set it up successfully. Your instructions are very clear thank you. It is going to be a real help as we have a family member with early Alzheimer's and he tends to go off on wanders and although currently finds his way home, he doesn't know in advance where he is going as he just waits for a train and gets on it, so he could be anywhere from Chester to Southport or Preston! I have sent my husband out with it to test it so we know what we are doing! It has been good fun! Or maybe I am just sad!! It is a fantastic bit of kit and we are so pleased."Janine
"We have received the dementia tracker and set it up successfully. Your instructions are very clear thank you. It is going to be a real help as we have a family member with early Alzheimer's and he tends to go off on wanders and although currently finds his way home, he doesn't know in advance where he is going as he just waits for a train and gets on it, so he could be anywhere from Chester to Southport or Preston! I have sent my husband out with it to test it so we know what we are doing! It has been good fun! Or maybe I am just sad!! It is a fantastic bit of kit and we are so pleased."Janine
"Such peace of mind for us as this tracker saved our dads life on the coldest night of the year back in December!!"Denise C
"I'm very happy with tracker & has made life so much better for us"Susan W