Dementia Trackers: Essential for Peace of Mind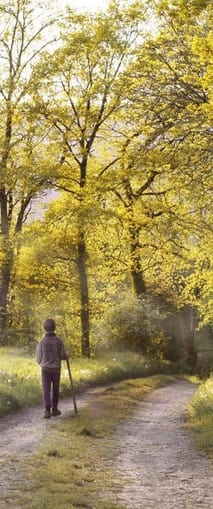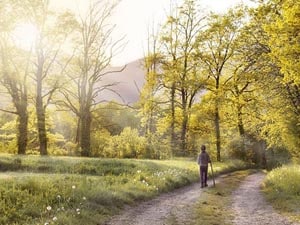 ---
In the UK,
people will develop dementia this year.
There are already 850,000 diagnosed, two-thirds of which will wander at least once - if not found within 24 hours, up to half can suffer serious injury or death. Our Dementia Trackers can help you find them quickly.
If someone close to you has dementia, then you may already be familiar with the anxiety it can cause - wandering is unfortunately one of the most common symptoms. Therefore Dementia trackers offer reassurance and peace of mind for exactly this situation.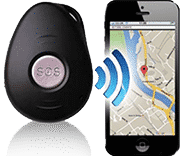 Our Stray Star GPS dementia tracker is one of the best dementia trackers on the market - a simple, great solution, offering reassurance and convenience in being able to find your loved one quickly. Instant locations, full control and uniquely flexible settings for relatives/carers. No call-centers or subscriptions - just great peace of mind and aftercare.
---
Did you know you can claim VAT exemption on applicable dementia trackers if the intended user has a long term chronic illness or disability like dementia or Alzheimer's? You can make a simple declaration at Checkout.
---
---
"Please can I convey my thanks for your support with the device, always prompt and supportive. My father recently went missing, he had his device attached to his keys, he lives independently and enjoys his walks. He had been missing for several hours and without wearing his device the outcome would have been very different. We managed to locate him easily. Your device allows my father to live independently, I can't thank you enough."Annie, 2016
---
Dementia Trackers Reduce The Risks of Wandering
Two-thirds of people with dementia will wander at least once, and can become easily confused and disorientated. This can happen at any stage of the disease. With Alzheimer's or memory problems they might not be able to remember their route, name or address - so the risks are huge. Dementia trackers offer huge peace of mind.
Warnings that Dementia Trackers are Necessary
The following signs can indicate that a person with dementia or Alzheimer's is likely to wander. Be on the alert if they:
Return from a regular walk or drive later than usual
Forget familiar routes
Talk about doing old routines, such as going to work
Try or want to "go home" when already there
Are restless, pace or make repetitive movements
Have difficulty finding their way about home
Ask after past friends and family
Act as if doing a hobby or chore, but not really doing anything
Become nervous or anxious in crowded areas
More articles in our GPS Trackers for Dementia & Alzheimer's Section:
---
---
"Hi, we purchased a Stray dementia tracker for our Dad in early November. We have been really pleased with the reassurance it gives us as he still lives at home independently but visits my mum daily in the local care home she is a resident in so we are able to check he has arrived safely and has been dropped home at night by his taxi."Noreen, 2018
---
Why Our Dementia Trackers Are So Useful
When the person wanders, you will know
If and when the person with one of our dementia trackers wanders too far, receive a GPS location alert direct to your phone. Dementia Trackers have a 'boundary alert' function, so if the person oversteps a set radius (e.g. 100 meters away from home) then dementia trackers will automatically send a text alert with map location to you, and up to two other carers, family neighbours or friends. More about alerts from Dementia Trackers.
---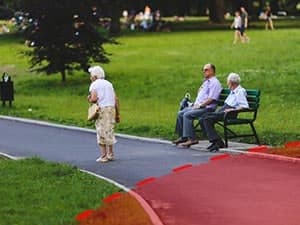 Dementia Trackers give Instant Locations
We've heard many stories of the police being called out to help in these searches, which can be terrifying for the family. Our Stray Star GPS Dementia Trackers give instant location text whenever you need one - taking you straight to the location on Google Maps on your phone. 
---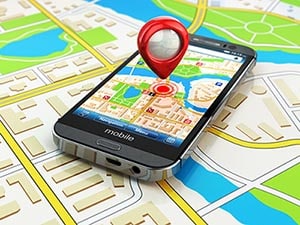 Learn their regular wandering routes
Dementia Trackers allow a full track of a routine wandering route to be seen, by enabling online tracking. This is free to set up and use, and can be switched on or off by text. Dementia trackers will regularly upload their location to a web tracking account, which you can log into to see the path of where the tracker has been over any given period of time. The use of data from the pre-installed SIM is only 10-20p per month. 
---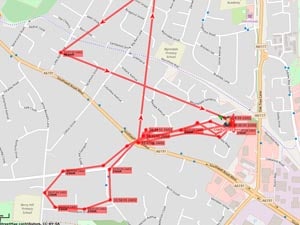 SOS / Panic Button to alert a carer
A panic button on the dementia trackers can be pressed to alert a carer if the person becomes confused, disorientated or lost. If memory issues (depending on the stage of dementia) mean they're unlikely to use this intentionally, it can be disabled without losing other important alerts (e.g. wandering, falls, low battery).
---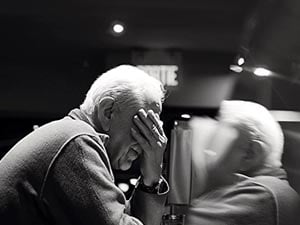 Be alerted if they fall
Our Stray Star Dementia trackers offer fall detection and text alerts should the person happen to fall and/or suffer a knock. If it feels a "shock" and then lies still for a few seconds, it will automatically text out to the carer(s) to let them know. A small beeping sound offers the wearer a chance to cancel any false alarms. More information on the dementia trackers fall alert can be found here.
---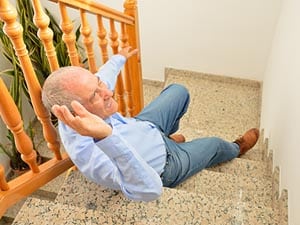 Discreet, tamperproof and waterproof
Our Stray Star GPS Tracker is also a discrete GPS Dementia Tracker – it has two very tiny LEDs (which can be remotely switched off without losing any functionality). It can't be easily shut off by fiddling - there's a trick to powering it off. Its also waterproof – it can be taken out in rain, dropped in puddles, even worn in the shower! 
---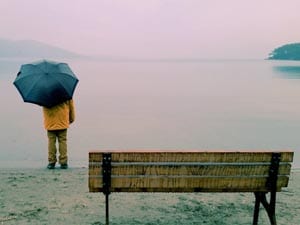 Easy to charge
We supply an optional charging cradle for our Stray Star GPS Dementia Trackers – just drop it in, and leave it until the red light goes out. No need to worry about plugging in charging leads! Also, the battery is terrific on this device and can last between 3 and 30 days depending on how you use it (typical usage will be 3-5 days).
---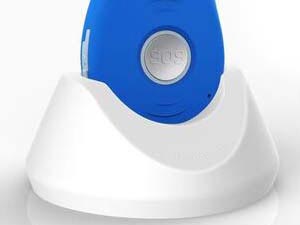 The Best GPS Dementia Trackers
Read more about our Stray Star Dementia Trackers, with even more benefits for locating anyone at risk of wandering.
---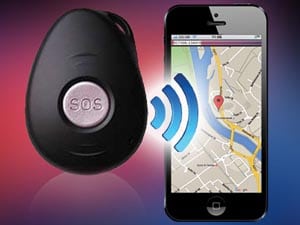 "I bought a Stray Star tracker a few weeks ago for my father who has dementia – I think it is a great product and it has been working very well"Liz, 2016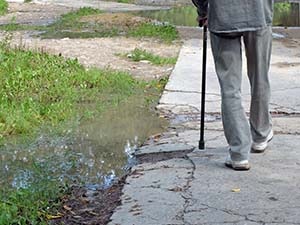 ---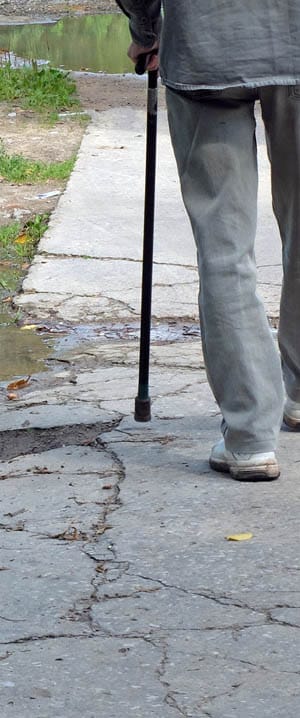 If Someone Has Recently Started Wandering, Don't Just Rely on Dementia Trackers, Plan Your Response Ahead of Time
You should always have a firm idea of what to do if your friend or relative with dementia wanders.  GPS Dementia Trackers don't guarantee safety, and there is always a risk of GPS interference or temporary mobile network mast tower faults as with any mobile device.
Begin search-and-rescue efforts immediately. The vast majority of wanderers are found within 1.5 miles of where they disappeared.
Explain the situation to any nearby neighbours, as well as local friends and family the person with dementia could visit, to call you if they see the person alone.

Keep a good recent photo and updated medical information in case the police are needed to help in the search.

Be aware of a two-mile radius of where the person lives, to pinpoint dangerous areas such as water, dense forestry, tunnels, or roads with heavy traffic. 

Keep a list of likely places where the person may wander - any nearby

 past jobs, former homes, places of worship, pubs, cafes or restaurants.

Provide the person with a form of ID that could be easily found. 

If the person with dementia does wander, search the immediate area for no more than 15 minutes.

 

If for any reason you aren't able to locate (e.g. with a Dementia Tracker) and safely retrieve the person, call 999 and report to the police that a person with dementia is missing. They can then help in the search or collection. 
"Bought the GPS pendant for my father who is in residential care with dementia and prone to "escaping" This device is an excellent product to secret in his shirt pocket. The customer service and aftercare with this company is excellent. I have had a couple of queries & their on line service response is quick and extremely helpful. Many thanks would highly recommend"Susan, 2016
Reducing the Risk of Wandering Before Dementia Trackers are Necessary
As helpful as Dementia Trackers may be, of course its far safer to reduce the chances of wandering in the first place. These ideas can help:
It helps to help create a sense of routine, such as carrying out daily activities. 
Try to plan activities for times when wandering is more likely. They can help reduce anxiety and restlessness. 
If the person with dementia wants to 'go to work' or 'home', validate them without correcting them, e.g. "let's stay here today, we'll be safe and can think about that tomorrow instead".
Remember to ensure that basic needs are met - a person with dementia may not always communicate when they're thirsty, hungry or need the bathroom, and such needs can trigger wandering. 
Never lock a person with dementia in at home or leave him or her in a car alone.
Try to avoid taking them to busy places that are confusing and can cause disorientation (e.g. shopping malls, grocery stores)
Don't leave someone with dementia on their own in new or changed surroundings.

Use devices to know when a door or window is opened - which can be as simple as a bell above a door, or a home alarm.

Keep car keys out of sight. 

If the person with dementia is no longer driving, they could easily forget. If you think driving might be a risk, also consider our GPS Dementia Trackers for Cars.
---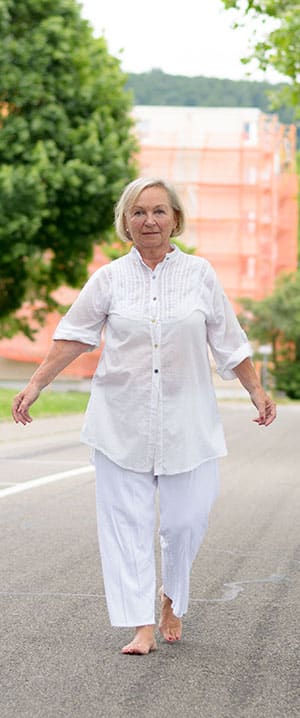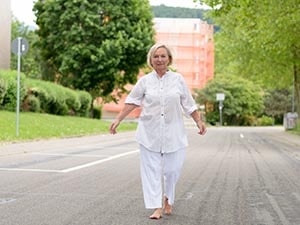 ---
"A great bit of kit for my peace of mind as much as Mum's safety. I'm not using all the other functions but might do so in the future – I was very impressed by how much is possible and how customisable it is for different needs."Karen, 2015
"I recently bought a tracker for my mother with dementia, it's a great piece of kit and am delighted with it."M Hancock, 2015
"Hi, The Personal dementia tracker is still doing a great job, we are able to locate the Dad when he wanders due to his dementia which has helped us so much and ensured his safety."Brian, Kent
"Brilliant! Thanks very much. We're currently away with our Dad staying in a hotel and its worked and helped us twice already. Its an absolute relief and piece of mind having the tracker"Gary, 2015
"We have received the dementia tracker and set it up successfully. Your instructions are very clear thank you. It is going to be a real help as we have a family member with early Alzheimer's and he tends to go off on wanders and although currently finds his way home, he doesn't know in advance where he is going as he just waits for a train and gets on it, so he could be anywhere from Chester to Southport or Preston! I have sent my husband out with it to test it so we know what we are doing! It has been good fun! Or maybe I am just sad!! It is a fantastic bit of kit and we are so pleased."Janine, 2015
"Such peace of mind for us as this tracker saved our dads life on the coldest night of the year back in December!!"Denise C, 2015
"I'm very happy with tracker & has made life so much better for us"Susan W
More useful articles in our GPS Trackers for Dementia & Alzheimer's Section
Our GPS Dementia Trackers
Learn more about our Stray Star GPS Dementia Tracker: packed with features, free pre-installed SIM card and plenty of great information, support and aftercare.
---