Free GPS Tracker SIM with Cheap Ongoing Costs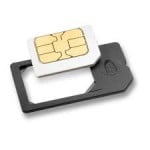 Adding a free GPS Tracker SIM makes it easy to get going when you receive your GPS Tracker. Our GPS Trackers require SIM cards because they function like small mobile phones - able to receive and send texts (e.g. locations) and allow for two-way calling. You'll look after your SIM credit yourself by logging into your own online account to top-up.
No Hidden Costs, Fees or Subscriptions
You won't pay any more fees or subscription costs to us whatsoever once you have purchased your GPS dementia Tracker and added the pre-installed free GPS Tracker SIM. You will just pay for your own SIM usage (the rates are outlined below).
Typical Usage = £1-5 per month
If you use about 5-10 texts (whether locations or alerts) a week, you'll only spend about £2 per month. It shouldn't cost more than £6 - we recommend starting with Pay As You Go credit, see how your usage goes in the first month, then switch to the £6 Goodybag if you need to.
Texting or Calling the GPS Tracker
When you text for a location reply, or call the device, it will be at standard rates from your mobile. Its not a premium rate or anything like that! Its just like texting/phoning a friend.
Network Coverage
Our free GPS Tracker SIM is from GiffGaff, who use the O2 network. You can check the coverage here - remember you can use another network and install your own UK SIM (as long as its not with the "Three" network).
---
Add a Free GPS Tracker SIM

…as an extra at the 'Shopping Cart' stage. It will then be pre-installed in your device.

£5 Free Credit

When you activate your account with £10

No Contracts

PAYG, or switch package anytime

No Hidden Costs

That's it! You only pay for your SIM usage.

You're in Complete Control

There are no more ties with us or any call centers, you set things up as you like

No EU Roaming Fees

If you're going away, don't worry about roaming costs!

Outgoing Calls are Optional

SOS & Call Button can be disabled

Not Locked to any Network

You can also use your own SIM (as long as its not the '3' network)
Outgoing calls:
per minute
---
If using a £6 per month inclusive Goodybag:
Online data - more than enough!
Further Information and FAQ

GiffGaff to GiffGaff texts and calls are also free!
Please remember that the SIM network (GiffGaff, or whoever you happen to use) is a third party company completely separate from us.
If you have any specific issues about your SIM card that are related to the network (e.g. credit, payment, lost or damaged SIMs, lost account information) then you should get in touch directly with the SIM company.
Learn more about our Stray Star GPS Dementia Tracker: packed with features, pre-installed free GPS Tracker SIM card and plenty of great information, support and aftercare. You'll love its list of features.