See your GPS Tracker's location in real-time by logging into a website. Remember, you do not need to use GPRS unless you want to! You can continue to locate your tracker via quick reply-texts. However, the live online tracking of GPRS is very useful for those who want it.
We give a step-by-step guide to getting set up, and it works wherever you are in the world!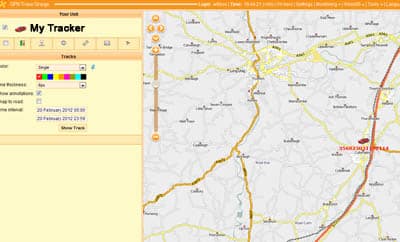 GPRS Live online tracking allows you to view your GPS tracker's location on a website, from anywhere in the world. You can watch the GPS tracker as it moves, and view it's movements across a period of time in the past. It's free to set up, free to create an account and free to use! The only cost will be for data use from your SIM – which is 20p per day with our supplied SIMs, or inclusive if you have a £5 per month package deal (which also gives 300 texts and an hour of outgoing call time if your Tracker can make phone calls – a fantastic deal, with no minimum contract!) If you use your own SIM, you will just need to make sure its data enabled.
30 Day History Of Movements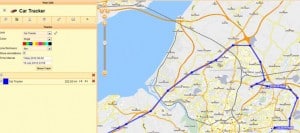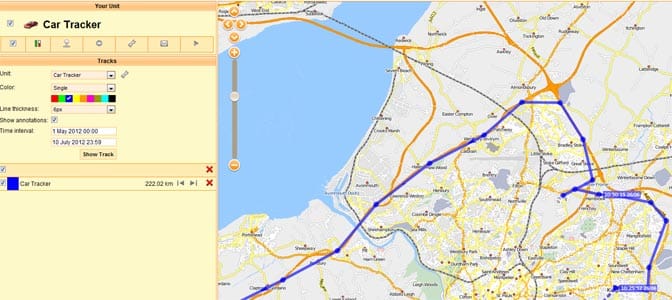 Whether carried by a person or hidden on a vehicle – you can see the GPS Tracker's movements for any date range in the last 30 days. Individual locations are accompanied by a date and time, so you can see exactly when the tracker was at any given point. This is incredibly useful for a number of situations.
How does it work?
GPRS stands for "general packet radio service". "Packets" of information are uploaded from your GPS Tracker to a website server, once you have programmed the right settings into the GPS tracker. You can then register with a website for free, and see your tracker by specifying its unique number and the number of the SIM card inside. You're then good to go!
We provide a step-by-step tutorial to getting set up, and the whole process takes about 5-10 minutes. You can then easily log in any time to see the tracker, and can also switch the "uploading" on the GPS tracker on or off with a simple text command.
What Do You Need to Use Live Online Tracking?
A data enabled SIM card
To enable live online GPRS tracking, the SIM card in the GPS Tracker must have a "data plan" – which then allows connection to the internet. Data plans can vary greatly in cost. GiffGaff supply an adequate data plan, with 300 texts and 60 minute call allowance for just £5 per month without contract (great value – and you can get an extra £5 via our partnership link). If you use Pay As You Go credit with GiffGaff, then its just 20p per day of data use (perfect for occasional users).
Set up the Tracker to upload properly
Buying a GPS Tracker from anywhere else can be a nightmare for online tracking – either it won't set up properly, or you'll pay huge subscription fees. Our step-by-step guides explain everything you need to know, and give you the exact text commands you need to send to your GPS Tracker. It takes just a few minutes to set up.