Coronavirus, Covid-19 & Dementia: the Urgency for GPS Tracking
A diagnosis of dementia or Alzheimer's is difficult at the best of times, but even in 2022 it's unfortunately more difficult.
More Dementia Cases Without Diagnoses
Coronavirus has brought a number of serious challenges and risks in caring for people with dementia. The dementia diagnosis rate (the percentage of over-65s diagnosed, from those statistically estimated to have dementia) dropped from 67.6% in February 2020 to 63.2% by July 2020. This dropped further still to 62.4% by December (source: digital.nhs.uk). This is highly unusual in itself - but easy to understand by the increasing reduction and inaccessibility of usual healthcare. What this means is that there are now more people out there with symptoms of dementia who haven't yet been able to find a diagnosis - presenting a great burden on carers who may not have adequate support, amidst the increasing risks and difficult restrictions of Covid-19.
Covid-19 Poses Increased Risks For Dementia
In, the US, among 10576 confirmed Covid cases in nursing homes, 52% had dementia, yet accounted for 72% of all deaths (an increased risk of 1.7, source: Livingston G, Huntley J, et al. (2020) "Dementia prevention, intervention, and care: 2020 report of the Lancet Commission." Lancet. 396:413-46. Available at doi:10.1016/S0140-6736(20)30367-6).
---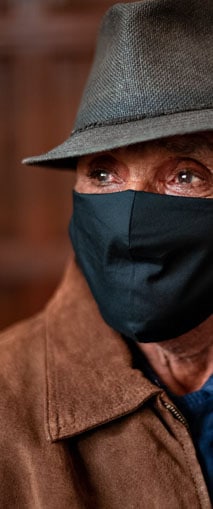 ---
People with dementia carry an increased risk for Covid-19 infection for a number of reasons: their age, underlying conditions, and less likelihood of maintaining adequate distancing. People with dementia might not remember or comprehend necessary behaviours, such as washing hands or staying indoors. Loved ones or carers wearing masks could seem confusing, and reduce the chances of recognition. Understanding what is being said will also be impacted by the covering of mouths (Migliaccioa R, and Bouziguesa A. "Dementia and COVID-19 Lockdown: More Than a Double Blow for Patients and Caregivers." Journal of Alzheimer's Disease. Reports 4 2020, pp. 231–235.)
Dementia and Wandering: Intervene as Soon as Possible with GPS Tracking
Before the risks of Coronavirus, there was already a difficult balance to maintain in managing loved ones with dementia who might be at risk of wandering. It can seem (and be) unethical to reduce freedom of movement, particularly where an already frustrated and isolated person enjoys getting out and about - walking provides exercise as well as gives a sense of much needed routine.
There are now many reasons to restrict wandering as much as possible in Dementia patients:
There is a legal requirement to stay at home
There is a risk of infection when wandering, as social distancing might not be maintained, which poses a vastly increased risk of death
If lost, the resources of local police could be reduced compared to usual
If injured, NHS care and resources will certainly be compromised due to the existing increased burden caused by COVID-19 cases
It's a very difficult situation for carers to manage, and you will have a lot to think about if someone close to you has started showing signs of dementia or wandering.
A GPS tracker for dementia is a hugely useful addition to your protective measures. If someone close to you with dementia goes for a wander, you'll want to know as soon as possible - our device will text you within minutes. You can also listen in to the surroundings, talk to them via a speaker, and locate them at any time.
You can read more about Coronavirus and caring for dementia patients at home from Alz.org, here.
"I am very happy with the tracker which i use for my husband, who has dementia."Lillian, UK, November 2020