Gifts for Someone with Alzheimer's – The Gift of Freedom & Reassurance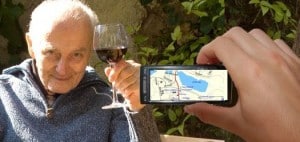 If you know someone who has been diagnosed with Alzheimer's disease, then you might be looking for a gift for someone with Alzheimer's to help.
A personal GPS Tracker makes a ueful gift for someone with Alzheimer's. Our GPS tracker watch can be worn by the Alzheimer's patient, and allows a carer to be able to easily locate them should they go wandering or become lost.
Wandering is a very real problem for Alzheimer's patients and dementia sufferers. As the person advances through the Alzheimer's stages, wandering becomes more and more likely. Over half of Alzheimer's patients will become lost at least once.
GPS Trackers as gifts for someone with Alzheimer's
We have two GPS trackers which are very useful gifts for someone with Alzheimer's. They allow the carer to be able to locate the GPS tracker with a simple text message – or using a free online website. All they require is a SIM card (we provide free SIM cards with £5 free credit – and they only cost £5 per month for standard GPS tracker usage). A text message to the GPS tracker will get an automatic reply with the location coordinates which can be clicked on or entered into Google Maps. They are able to locate themselves with accurate precision using inbuilt GPS satellite technology.
Our GPS watch can be easily worn, and our GPS mobile phone tracker is also a user-friendly mobile phone with large buttons. Both tracking devices can be tracked using simple text messaging.
Safety features as gits for someone with Alzheimer's
As a thoughtful gift for someone with Alzheimer's, saftey is an added bonus. Our GPS trackers have SOS buttons built in – so if the Alzheimer's patient becomes lost or confused, they can simply press the button. This then automatically sends a text to up to three designated emergency numbers, as well as calls them in turn until someone answers. Via the onboard microphone and speaker, a 2-way conversation can then take place. Our GPS trackers for Alzheimer's patients also have a feature where you can be alerted via text if the GPS tracker strays too far – e.g. more than 100 metres from the Alzheimer's patients place of residence.
If you have any questions about our GPS trackers as gifts for someone with Alzheimer's, do get in touch.
Further Reading
[post_list preset="articles"]