Online GPS Tracking with GPRS
…it's easy – and costs next to nothing!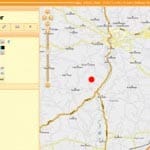 Our GPS Trackers all have the ability to be tracked online. Online GPS tracking with GPRS is simple to set up – all you need is one of our GPS Trackers, and a SIM card that is data enabled. SIM card providers charge different amounts for data – but you needn't pay any more than £5 per month. Our partners at GiffGaff offer a "goodybag" for just £5 per month, including call minutes, and more than enough texts and data usage. This is perfect! If you're planning on using online GPS Tracking with GPRS sporadically, then with pay as you go its only 5p per text, or 5p per megabyte of data usage (which is plenty, the data usage is absolutely tiny). GiffGaff use the o2 network, so coverage is excellent.
Setting up the GPS Tracking for Online GPS Tracking with GPRS
We pre-install our GPS Trackers with a GPS Tracker SIM Card, all you need to do it follow the enclosed simple instructions to activate it. Our GPS Trackers use a simple texting protocol – you text the GPS tracker from another mobile phone with specific commands. Firstly, you need to set the APN (access point name) for the SIM inside the GPS tracker. This enables the GPS tracker to be able to upload information to the internet, using the SIM's access network. The APN is different from company to company. When you buy a GPS tracker from us, we provide a list of all the APNs for UK carriers, so you know exactly what you need to text to your GPS tracker to get it set up (depending on the SIM card you have). You simply look up your company (GiffGaff, Orange, Tesco Mobile, Vodafone etc) then see the whole text command that you need to send to the GPS Tracker. Easy!
The next step is to configure the GPS Tracker to upload to a particular server on the internet. Again, when you purchase a GPS Tracker from us, we give full instructions of exactly what to text the GPS tracker.
The third and final step for the GPS tracker in terms of online GPS Tracking with GPRS is to text the tracker with your GPRS variables. Whether you want GPRS uploading switched on or off, and what the interval period should be (1 minute? Every 10 minutes?) Generally speaking, the shorter the interval, the faster the batteries will run out, but with a 5 minute interval you should be good for a few days.
Online GPS Tracking with GPRS – Which Website?
There are a few websites offering online GPS tracking with GPRS. Some charge a lot – others are extremely complicated. When you buy a GPS tracker from us, we give a step by step guide of signing up with a provider that is totally free. Once your GPS tracker is set up for online GPS tracking with GPRS, you'll be ready in no time.
When you see your GPS Tracker live online, it feels satisfying. You can log in whenever, from wherever – and see exactly where it is.
Below are our GPS Trackers enabling onling GPS Tracking with GPRS.
Delivery takes between 2-5 days for UK orders.