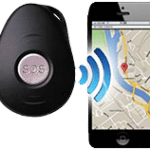 Seven Things You Can Do With A GPS Personal Tracker
Our GPS Trackers for dementia, Alzheimer's or elderly wanderers are loaded with features. They're also waterproof, tamperproof, and come with pre-installed SIM cards, no hidden fees or subscriptions, and stacks of online help and information to ensure you never get stuck!
Be alerted via text if the SOS button is pressed.
Be called by the GPS personal tracker if the SOS button is pressed.
Call the GPS personal tracker to connect to the wearer or carrier.
Watch the location of the GPS personal tracker live online with online GPS tracking.
Be alerted if the wearer falls down.
GPS personal trackers just require SIM cards to work – which we helpfully pre-install for you for free (and you'll get £5 free credit). In this sense, they are like mini mobile phones – the GPS personal tracker will have its own unique phone number. This is how you can text the GPS personal tracker to program the various functions and make location requests. The costs of the texts and calls from the GPS personal tracker are VERY CHEAP! There are no hidden charges or subscriptions.
A GPS Personal Tracker Gives Reassurance And Convenience
A GPS Personal Tracker is a very useful gadget to have. A GPS Personal Tracker is not only useful for tracking yourself or someone else – but a car or belonging as well.
GPS Personal Trackers are unique as GPS Trackers in that they transmit their location via text, as well as online. This makes GPS Personal Trackers very user-friendly – you only need to send a text message to the GPS tracker, and it will automatically reply by text with its location coordinates. The location coordinates can be put into Google Maps, or clicked on a smart phone to automatically load up a map.