What's My Favourite GPS Tracker and Why?
Choosing a GPS Tracker can be a nightmare. There are plenty to choose from, which more often than not will have poor battery life, be imported from from China, carry a customs charge, and have no follow-up assistance. And of course – you'll get a poor manual in Chinglish which makes no sense!
In just a minute I'll tell you about my favourite GPS tracker and why. But first, why buy from us? Well, we provide all of these things when you buy a Personal GPS Tracker:
Buy a GPS Tracker From Us and you'll get…
Free Signed For delivery, from the UK
High quality trackers, that work!
Full detailed manuals
Huge online help portals with lots of questions, tips and further detail about any functions
Step-by-step guide to getting set up with an online GPS tracking website, if you need it
Online assistance if you get stuck – we reply very quickly too.
Our Favourite GPS Tracker
Our Personal GPS Tracker is a fantastic gadget. Its the size of a matchbox, but packs a 10 day built in battery. Getting it set up for online GPS tracking is a breeze, and we provide a step-by-step guide with our detailed instructions.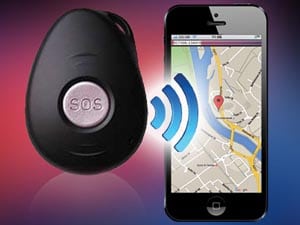 It has a few other features which set it apart from other GPS Trackers. Normally, geo-fencing on a GPS tracker allows you to receive a text alert if the GPS tracker strays a certain distance from a fixed point. On our Personal GPS Tracker, you can set up to three circular geo "zones". They can be of any size, anywhere. The unique aspect of the geo-fencing on this GPS tracker though is that you can choose to receive alerts if the GPS tracker moves not only out of a zone, but into one. So for example, you could set up three areas, and know if the person or vehicle you are tracking goes to one of those areas.
They have the flexibility to have one person receive important SOS alerts, and another person to receive low-battery alerts. A third person can be called if the side button is pressed – or the same person could receive all three alerts, and more (e.g. geofence breaches). This kind of flexibility is fantastic if you want to share the GPS Tracker with family members.
The onboard speaker on the GPS tracker can also be used for remote listening.
For a GPS Tracker the size of a matchbox, we think you'll agree its a pretty impressive list of features. To learn more about the best GPS Tracker, click here.
More GPS Tracker Details
At a glance, some more features of our Personal GPS Tracker:
A solid and robust GPS Tracker
Only 60 x 45 x 16 mm – the size of a matchbox
No ongoing GPS Tracker costs except text messages
Detailed manual explaining everything you need to know about your GPS Tracker
Inbuilt battery, which lasts up to 10 days on standby
Receive GPS tracker location reports via text message
Texts from GPS Tracker have links to Google Maps
SOS button which texts and calls up to 3 numbers
Can be remotely made to answer with just the microphone enabled
Easily set up online tracking
Receive alerts if it moves out of, or in to, up to three pre-defined areas
Receive alerts if it goes above a certain speed
Nicely packaged in a presentation box
Quad band so can be used world wide
Perfect GPS Tracker for Alzheimer's or dementia patients, GPS Tracking elderly patients, tracking children, vulnerable adults, GPS Tracking cars, the uses for GPS tracking are plentiful.
Delivered within two working days
If you have any questions about our personal GPS Tracker or any of our other GPS trackers, don't hesitate to get in touch.