Car Tracker – tips and help
Usage Updates
The device has 1mb of inbuilt memory to store locations. Whenever you use the live GPRS tracking function and it goes out of SIM range (if you are in a signal blackspot for example), then the device will record the data onto the internal memory instead. When the signal is regained, all the lost data points will then be uploaded. The inbuilt 1mb is enough for about 16,000 GPS location points. If you need to expand this, you can use the SD card slot to increase the memory. For most purposes though, this won't be necessary. There are some extra commands associated with this functionality:
save030s005n123456 (tracker will respond "save ok")
030s = save points every 30 seconds
005n = and will save five times (so two and a half minutes for the example, 5 x 30 seconds)
save030s***n123456
will save every 30 seconds, within any limits (indefinitely).
To cancel the auto-save logging, send clear123456, the device will respond "clear ok".
Optional Electrical Installation
It is not essential to wire the Vehicle Tracker to your car, as the internal battery will provide enough standby power for up to 60 days. However, extra functionality is available if you choose to install the tracker. The below diagram illustrates the wiring, making use of the 4-Pin harness.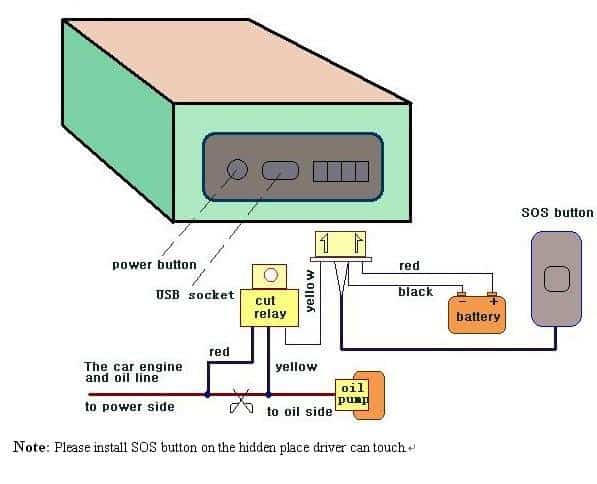 Hardware issues
Usage Issues
Online Tracking
If you follow the guide (above) correctly, it will work – look closely to see what you might be doing wrong. Here are some common mistakes:
You haven't sent the relevant texts ("apn123456 giffgaff.com" and "adminip123456 IPnumber PORTnumber").
Your SIM card doesn't allow data (if you used a GiffGaff SIM then this isn't going to be a problem).
The SIM is out of credit?
You selected a device type other than xexun tk-102.
You haven't put in the correct fifteen digit IMEI number – check your location texts
Its absolutely minimal – over the course of a month, it will only amount to just a few megabytes. GiffGaff only charge 5p per mb, so it shouldn't be more than 10p a month!
Still Stuck?
Explain your question or problem using the form below, and we'll be in touch as soon as possible to help out. This form will let us know that your problem is related to this particular product.