3G GPS Tracker for Dementia – US, Canada, Australia, New Zealand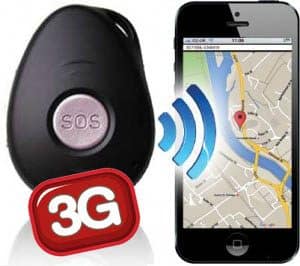 If…
you want to track someone who is at risk of wandering, or has dementia or Alzheimer's
and
you live in the US, Canada, Australia or New Zealand…
then you will need a 3G GPS Tracker.
Why? Because US, Canada, Australia and New Zealand have switched off their old 2G networks (which most normal GPS Trackers operate on) to make room for 3G and 4G.
Fortunately, we supply an exclusive 3G GPS Tracker for dementia, Alzheimer's and wanderers, specifically for customers in the US, Canada, Australia and New Zealand.

Our 3G GPS Tracker for dementia and Alzheimer's is packed with essential features
We don't think you'll find any other 3G GPS Tracker that's as useful and user-friendly.
1) It can text you if the person wanders too far, falls, or presses the SOS button.
2) It gives instant Google Map locations via reply text message, wherever the person is in the country.
3) Its waterproof, and tamperproof.
4) It even allows two-way calling, with a discreet microphone and speaker.
5) It can be worn as a pendant, in a pocket, on a belt, strapped to a leg, or with a keyring.
6) There are no ongoing fees or subscriptions – you only pay for SIM usage like texts or outgoing calls.