GPS Watches for Alzheimer's Alert You When They Wander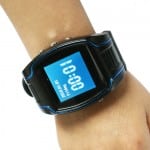 Our GPS Watches for Alzheimer's are incredibly functional. Keeping track of an Alzheimer's patient who may wander or get lost is vital – 700,000 people in Britain are diagnosed with Alzheimer's and over half will get lost at least once. The GPS Watch for Alzheimer's can be located via a simple text. So you text "5550000" to the SIM card inside of the GPS Watch, and it will automatically text back its location coordinates. You can either click on the link in the text to open up Google Maps on your phone, or if you have an older phone, put the coordinates into Google Maps on any computer to see the location.
You can also track the GPS Watch for Alzheimer's online. You just log into a website, and see immediately where the tracker is. This only takes a few minutes to set up, is totally free, and we give you a step-by-step user-friendly guide.
GPS Watches for Alzheimer's Other Safety Features
The GPS Watch for Alzheimer's also has a small SOS button on the side. If pressed for a few seconds, then the tracker will automatically send an alert text to a designated mobile. It will also call the programmed numbers (up to three) in turn – until a call is answered. Then, a two-way conversation can take place because the GPS Watch Tracker has an onboard microphone and speaker.
Geo-Fencing
The GPS watch also has a feature where with one simple text message, you can program the watch to alert you with a text if the tracker strays too far from a certain point. So if for example you don't want to keep checking with texts – you can be notified if your relative with Alzheimer's walks to the next street.
Two-way calling
Two small buttons on the side of the watch can be easily programmed with phone numbers, with one simple text. The GPS Watch for Alzheimer's wearer only has to push a button to call one of the phone numbers.
Remote Listening
Another simple text can program the watch to call you back with the microphone enabled – so you can discretely listen in to the surroundings.
[scg_html_post-ad-watch]
If you know someone else who might be interested in GPS watches for Alzheimer's – please share via the email link at the top.
Further Reading
[post_list preset="articles"]