Elderly Phone GPS Tracker – A User Friendly Phone with GPS Tracking
Our Elderly Phone GPS Tracker is a unique and valuable GPS tracker for the elderly.
A fully functioning phone for the elderly…
The elderly phone GPS tracker is a user-friendly phone with large buttons. It's simple and easy to use, and even has a built in FM radio and flashlight (activated by switches on the sides). You can even text your friends and family, and access a phone book with up to 200 contacts, as with any other phone.


… with built in GPS Tracking
The Elderly Phone GPS Tracker also of course has GPS tracking technology – enabling a carer or loved one to be able to instantly track its whereabouts. For example, any one with a mobile phone and the four digit password could text "444000" to the mobile phone to get instant location coordinates by reply. The text also has live URL link to Google Maps – so if you have a smart phone you can instantly see the map. You can also log into an online website from any PC, to see the location of the elderly phone GPS tracker and where it has been.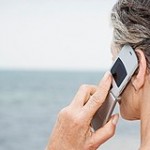 The Elderly Phone GPS Tracker has Remote Listening
As well as two-way calling, you can also remote listen to the elderly phone GPS tracker's surroundings as an added safety feature. If for example, the phone holder was indoors and away from a GPS signal, you could either call the phone, or listen in via its microphone. This does of course need to be used ethically and legally.
SOS "Panic" button for emergencies
As with all our GPS Trackers, the Elderly Phone GPS Tracker has a small SOS button on the back. Pressing this will sent an alert text to up to three preset phone numbers, as well as call them in turn.
[scg_html_post-ad-mob]
Further Reading
[post_list preset="articles"]