Our Alzheimer's GPS Watch is the perfect solution for a number of needs. The risk of wandering and becoming lost or confused is an obvious concern for anyone caring for someone with Alzheimer's, which affects approximately 700,000 people in the UK.
Alzheimer's GPS Watch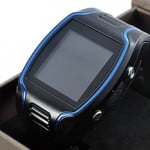 The Alzheimer's GPS Watch is sold by us, with free first class delivery and a free SIM card with £5 credit if you need one. The convenient tracker is a watch, mobile phone and GPS tracker all in one. Because the Alzheimer's GPS watch can be strapped to the wrist, it won't get forgotten or left behind.
Features of the Alzheimer's GPS Watch
Locate any time via a simple text message
SOS "panic" button if your friend or relative gets lost or confused
Two way calling – the Alzheimer's GPS watch has an on-board mic and speaker
Live online tracking – easy to set up, and totally FREE
Remote listening – listen via the GPS watches' microphone
Geo-fence control – receive an alert text if the Alzheimer's GPS watch strays from a set point
A Testimonial for the Alzheimer's GPS Watch
I ordered it from you as I appreciated the effort in creating a website that clearly describes how to get this set up and am further grateful for the very quick response in helping get this up and running fully. It's great to see it on the map and I hope that this will enable us to keep better track of my father (who has Alzheimer's) without unduly disturbing him.
All the best,
Conrad"
Further Reading
[post_list preset="articles"]