GPS Tracking is easy once you know how!
If you haven't already, be sure to watch our simple visual guide to GPS Trackers here – it explains what they can do in a nice and easy visual way.
GPS stands for "Global Positioning System". GPS Trackers are able to receive signals from the numerous GPS satellites orbiting above the Earth, which provide accurate data about the GPS trackers location, speed and time.
Our GPS trackers then also transmit this location information out to a mobile phone. Because of this, they require SIM cards to work (which we can supply with your order for free, or you can use your own!)
GPS Trackers Use SIM Cards
To use our GPS Trackers, you need to place a SIM card inside. It then acts like a mini-mobile phone, with its own phone number. Some even allow two-way calling via an oboard mic and speaker, and two buttons which can be pre-programmed to call specified phone numbers.
You then send a text message to the GPS tracker, with a specific message. The GPS tracker will then automatically respond according to the command you gave it.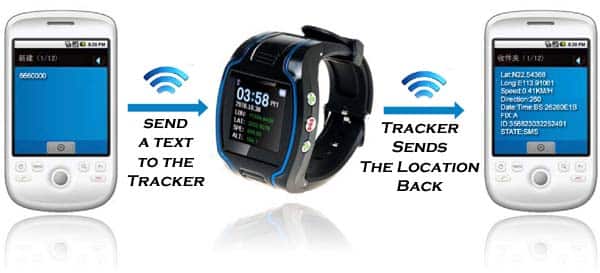 What Can Our GPS Trackers Do?
Instant Location
The carer sends a text message to the GPS tracker to instantly receive the GPS co-ordinates back. These can be put into Google Maps to see on a map exactly where the tracker is. Some trackers also provide this information via a link, so if you have a modern smart phone, you can click on the link to load up Google Maps automatically. Click here for an example of what this might look like.
SOS/Panic button
When pressed on the GPS tracker, the GPS tracker sends a text with "SOS" and the location co-ordinates to the mobile phone number programmed into the gps tracker.
Electronic Geo-fencing
When the GPS tracker goes out of a certain range, it will send an alarm text to the stored emergency mobile number.
Live Online Tracking
GPRS Live Tracking is a service which provides constant tracking via a website. With a data-enabled SIM, GPS Trackers can send continuous GPS co-ordinates to the internet to allow continuous online live tracking.
Two-Way Call
An inbuilt microphone and speaker on the GPS tracker allow the carer to be able to communicate with the wanderer. Calls can be made both ways – by calling the GPS tracker's SIM, or the gps tracker holder pressing a button to automatically connect to a pre-programmed number.
More Information…
More information can be found in the FAQ/contact page – but if you have any other questions, just get in touch.