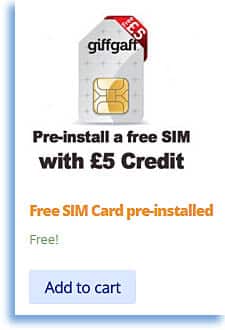 In your Shopping Cart, you can add a free SIM card with your tracker order, with £5 free credit! (UK only)
If you include a SIM card with your order, then we'll pre-install it for you too. You then just need to follow the activation instructions on the card accompanying your Tracker.
The free SIMs have great rates (5p per text), no contracts, no catches, and piggyback on the O2 network. O2 generally have great coverage in the UK, but if you're not sure, then you can check here beforehand (opens in new window). Its easy to create and log into your online account, to activate SIM, keep an eye on credit levels, and switch to a different deal if you need to. The network is run by GiffGaff – a highly reputable and popular UK network.
You don't have to use our included SIMs. If you have a spare SIM lying around with credit, or live in an area with poor o2 coverage or outside of the UK, then it makes sense to use another SIM. The devices aren't locked to any particular network.
Why Our GPS Trackers need SIM Cards
The Free SIM and why its useful
You can choose to have a free SIM with your tracker order by selecting one on the payment options.
Our SIM partner GiffGaff offer Pay As You Go (via top-up credit which lasts as long as it takes to use up) or a range of inclusive "goodybags", which last for a month. You can set your account to renew automatically, or just when you need it. They don't tie you into a contract for 12 or 24 months like some providers do.
What's more, the SIM cards we can include with your GPS Tracker will give you £5 free credit when activated. Activation requires a £10 top up – which can be Pay As You Go credit, or an inclusive month long package. So once activated with £10, you'll actually have £15 – which can last for months depending on how much you're likely to use your GPS Tracker.
Unless you think you'll be making lots of outgoing phone calls from your GPS Tracker, we recommend using the Pay As You Go Credit option. Its then just 5p from your credit for text locations to be sent from your tracker. You can also use online tracking for just 20p per day from your credit.
If you know anyone else who might want a free SIM card with £5 credit – then please share this page. GiffGaff to GiffGaff calls are also totally free.
You can add your free SIM at the Shopping Cart stage.
You can also click here to order a SIM direct from GiffGaff (which may take a few days).
Common SIM Related Questions
Please remember that the SIM network (GiffGaff, or whoever you happen to use) is a third party company completely separate from us.
If you have any specific issues about your SIM card that are related to the network (e.g. credit, payment, lost or damaged SIMs, lost account information) then you should get in touch directly with the SIM company.