Using a GPS Tracker for the Elderly – a real world example
Its always nice to hear testimonials of customers using their GPS trackers for elderly wanderers. This next one came in on August 30th 2013, from Nichola.
"I have to say I found setting up the online tracker a lot easier than I originally thought and it has certainly been enlightening, I should have done it months ago.
Albeit a little bit of information can be dangerous, as I now know my mum is constantly going wondering after her trip to the day centre, now I have to work out what I can do to try to stop it! Think that is going to be the hard bit…
That said the GPS tracker I have has been an absolute god send to finding out where she is when she has gone astray.
Thanks again for all your help and support this year, I really do appreciate it."Nichola
Nichola raises an interesting question about using GPS Trackers for dementia, Alzheimer's or elderly people who may get lost. Knowing where they are is half the battle.
While helping to prevent wandering is obviously the safest option, its also about finding the balance to allow the person's freedom to enjoy their life. Our GPS Trackers for the elderly, with dementia or Alzheimer's allow that balance to be found more easily. The risk is obviously still there, but far more minimised by at least being able to locate them should they wander too far or become lost.
You know the location of the lost elderly person, now what?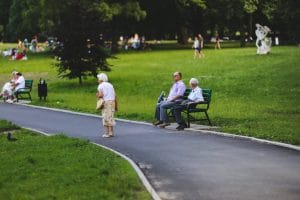 When an elderly person, or someone with Alzheimer's or dementia gets lost, they might wander a couple of miles before someone notices. If they're following familiar cognitive routines, they may even hop on a bus.
Carrying a GPS Tracker is a great start – they're small, discrete and inexpensive for the value of the information they're able to provide. A simple text message will give you an instant accurate location.
There are a few options of what to do next, depending on your individual situation:
1) Get to the location asap, or ask someone you know nearby to do so for you. This will of course depend on the distance and your own specific situation.
2) Contact the police. If the person you're tracking with GPS is elderly, vulnerable or has dementia or Alzheimer's, then you're first priority will be reaching them as soon as possible. Giving the location to the police might be a quicker solution than getting there yourself, depending on the distance obviously.
3) Call the GPS Tracker to talk to the elderly person. Our GPS Trackers have two-way calling. The personal Stray Star GPS Tracker will answer a call automatically, allowing you to speak through the speaker. This allows you to offer reassurance, and ask them to wait until someone can safely collect them.