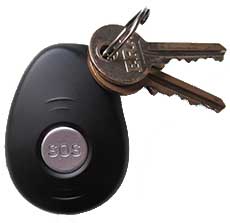 Why do you want your GPS Tracker to be discrete?
There are 4 main reasons - click on yours:
"Bought the GPS pendant for my father who is in residential care with dementia and prone to "escaping" This device is an excellent product to secret in his shirt pocket as he would probably remove the watch. The customer service and aftercare with this company is excellent. I have had a couple of queries & their on line service response is quick and extremely helpful. Many thanks would highly recommend"Susan, 2016
Our GPS Tracker is very discrete! 
Fortunately, our Stray Star GPS Tracker has a number of great discrete features. Click on any heading for more details. 
So... if you're looking for a discrete GPS Tracker, look no further. 
Click to Learn More or
Buy Our Discrete GPS Tracker