Know where they are, and when they stray too far
Reports show that 60-70% of dementia and Alzheimer's patients will get lost at least once, and nearly 50% of them can die if they aren't found within 24 hours. Our GPS trackers for the elderly or sufferers of dementia and Alzheimer's offer reassurance and convenience at a great price.
Click here to visit our dedicated Dementia Care Zone page, with more specific and updated information about GPS Trackers in relation to dementia.
How are GPS Trackers for Alzheimer's & Dementia useful?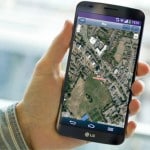 If the person wanders, they won't get lost
As Alzheimer's or dementia gradually worsens, wandering behaviour can increase, with the person at risk of getting lost, confused or at risk of hypothermia. We've heard many stories of the police being called out to help in these searches, which can be terrifying for the family. With our GPS Tracker, locating them is incredibly easy – it just takes a quick text message and their location will show up as a map on your phone.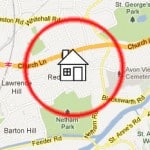 If they wander too far, receive an alert
You can set a "geo-fence" on the GPS Tracker, so that if they overstep an imaginary radius (e.g. 100 metres away from home) then the device will automatically send a text alert to you, the carer (and anyone else whose number is programmed in to the device).
Learn their regular wandering routes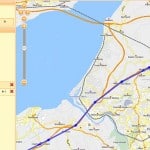 Sometimes, a routine can set in with wandering. You can easily see the full track of a route, by enabling online tracking. This is free to set up, and is easy to switch on or off. The device will regularly upload its location to a web tracking account, which you can log into to see the path of where the tracker has been over any given period of time. The only requirement is that you have a data enabled SIM. With the SIM's we provide for free with the devices, using online tracking only costs 20p per day of use from your SIM account (or, you can have a package deal for £5 per month with inclusive use of data, texts, and some call time as well).
If they fall down, receive an alert
If the person should fall and be immobilised, the first useful feature is an SOS "panic" button. Pressing this will send an alert text message to the carer(s). However, if they are unable to, the device has a "fall detection" feature. If it feels a "shock" and then lies still for ten seconds, it will automatically text out to the carer(s) to let them know that the fall detection has been triggered.
Check they are ok at any time
Via a simple text command, you can get an alert reply back if the device is moving. This lets you check that its being worn or carried, and that the person you're caring for is active. You can also call the device to have a two-way conversation, or call it will just the mic enabled to listen in to the surroundings.
Discreet, tamperproof and waterproof
Our Stray Star GPS Tracker is discrete – it has two very tiny LEDs (which can be remotely switched off without losing any functionality). It can be called with the mic enabled, without making a sound. When calling for a two-way conversation, it will make a loud brief ringtone to alert the wearer of the call. Its tamper-proof, and can't be shut off by fiddling – to switch it off, the power button and SOS button must be pressed at the same time. The SIM card is installed inside the device, so nothing can be done to interfere with its functioning. Its also waterproof – it can be taken out in rain, dropped in puddles, even worn in the shower!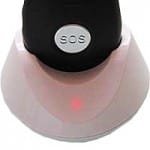 Easy to charge
We supply an optional charging cradle for our Stray Star GPS Tracker – just drop it in, and leave it until the red light goes out. No need to worry about plugging in charging leads! Also, the battery is terrific on this device and can last between 7 and 30 days depending on how you use it!
"I configured the unit and gave it to my mother who is 80 and suffering from dementia. I was so pleased with the results that I promptly ordered a second tracker." Mr Blumfield
Our Popular GPS Trackers for Dementia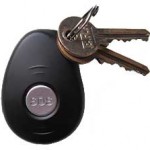 Our most popular GPS Tracker for dementia is the Stray Star GPS Tracker – which can be used as a pendant, keyring, or fixed inside clothing. Its our best GPS tracker, with a 7 day battery life, is waterproof, and has some superb features. The next most popular is the GPS Watch because it can be fixed to the wrist. You will be the best judge as to which tracker the person in question will be most likely/comfortable to use.
Seven Great Features of our GPS Trackers for Dementia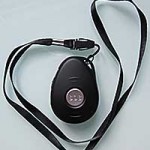 Text the GPS tracker to receive instant location coordinates
Be alerted if the tracker strays from a fixed point
SOS "panic" button if the wanderer gets lots or confused – sends immediate alert text
Two way calling – use the onboard speaker and/or microphone
All our GPS trackers come with user-friendly, step by step manuals
Free online GPS tracking – log into a website to see the location (requires data sim)
No ongoing fees or contracts – except your own usual SIM card costs
"I use the tracker for my father who has dementia and there are two of us caring for him. It is working fine for us, thank you, we have had no problems and it gives us some reassurance that we can find him if he wanders." Nichola
What Do You Need To Get This Working?
The GPS tracker just needs a SIM card – which we can install in it beforehand for you, for free. The SIM just needs activating when you receive it, by adding £10 of credit with the GiffGaff mobile phone network. It is then like a small mobile phone, able to send and receive texts. You text the GPS tracker from your own mobile phone to program the various functions, request locations, and call the GPS Tracker if you need to. This is all detailed in the manual supplied with the GPS Tracker. They are not locked to any particular phone network though, so if you already have a SIM you want to use (or only get a good signal with one or two networks) then you can use your own (the GiffGaff SIM's we install use the o2 network).
Setting Up the GPS Tracker for Someone with Dementia and/or Alzheimer's
Its easy. You just need to:
Read the instructions that come with the GPS tracker very carefully
Activate the SIM card
Send the text message to get a location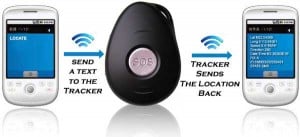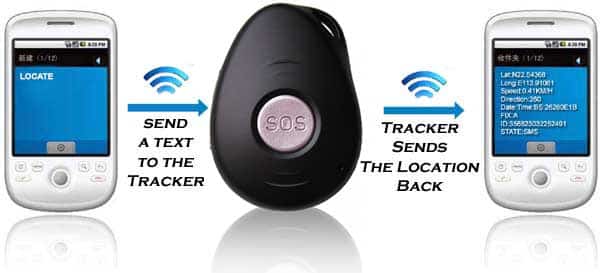 Things to think about…
What will the person with Alzheimer's or dementia feel comfortable using?
Our most popular GPS Tracker for Alzheimer's & dementia is the Stray Star GPS Tracker, which can be worn as a pendant necklace or keyring. If the person feels more comfortable wearing a watch, then the GPS Watch might be better suited (although its more suitable for a man than a woman). If you aren't sure, you can always return the device within 14 days if it isn't suitable – so long as you keep everything in perfect condition.
What is your mobile phone like?
If you're the person who is going to be doing the locating, it helps to have an internet phone. Its not essential, but this way, when you get a location text message, you can quickly and easily see the location on a map. If you have an older style phone (without the internet) then you can still manually enter the coordinates onto Google Maps on a browser on your computer. Unfortunately the carer does need to have some access to the internet to see the location! Hopefully that won't be a problem though, as you're already reading this 🙂
Charging
You will need to consider the day-to-day practicalities. Hopefully, someone will be around to make sure that the device is being carried or worn properly, who is also able to ensure its charged regularly. Our Stray Star GPS Tracker requires less charging, roughly once a week and sometimes less. You will get a text alert sent to your phone when the battery drops below 15%. We also supply a charging cradle for it, which makes charging much easier. Just drop it in and leave it for a few hours until the red light goes out.